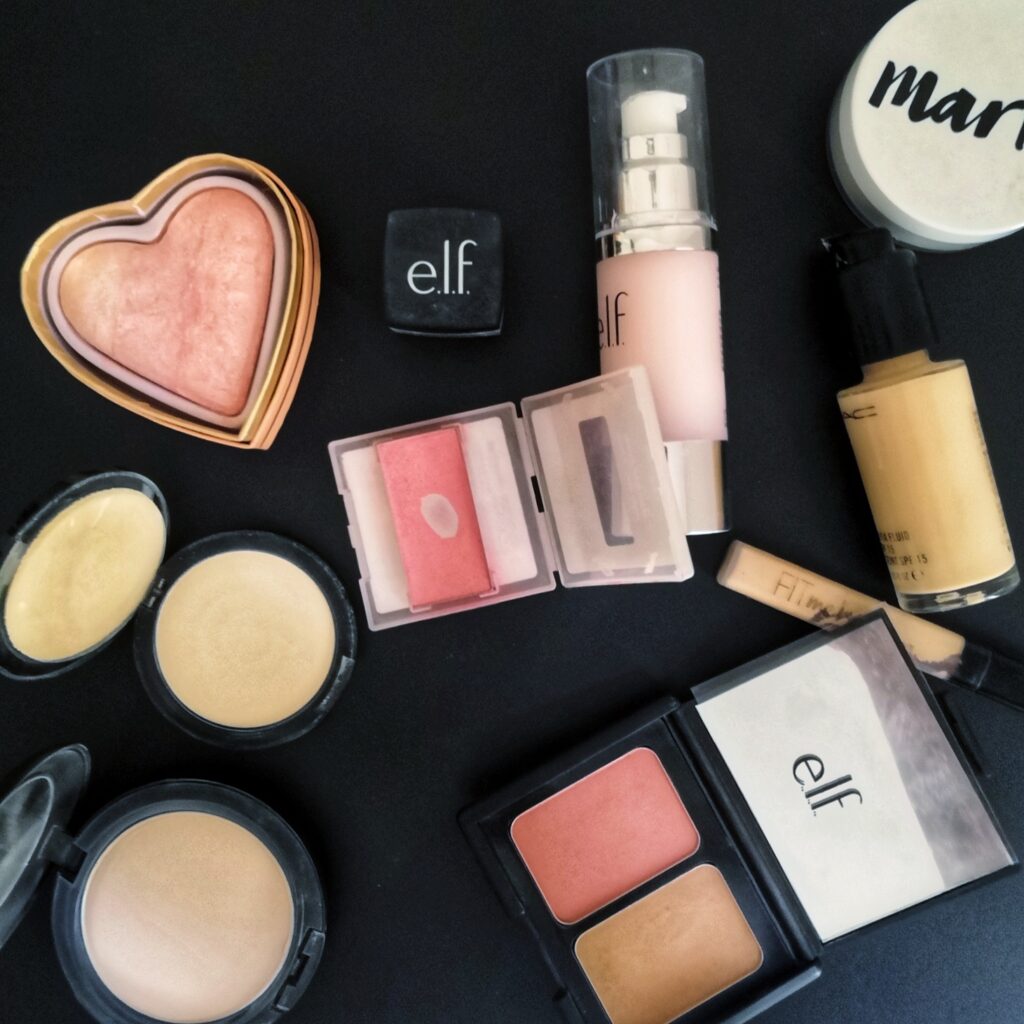 Elf Poreless Face Primer
A silicone primer that feels so slippery, I always doubt whether it does anything in terms of prolonging makeup life – but it does. You need the tiniest amount of this – I use a pump because I hate half-pumps, but if you're okay with those, then maybe try a half and then go from there.
Maybelline Fit Me Concealer in 05 Ivory
Purchased during my trip to Bucharest well over a year ago, but still going strong. I'm about halfway done I'd say. 05 is a good shade for me, but I wish they had something just a touch lighter, to brighten the undereye. This one does a fine job of concealing, but sometimes I want more brightness. Ah well. #palepeopleproblems Nevertheless, this is as close to a shade match for me as I found in a very long time, and I love how it performs – minimal creasing, good staying power, doesn't affect my mascara. So until I find another option, I'll be repurchasing this.
MAC Studio Fix Fluid Foundation in NW10
My perfect year-round shade. In the dead of winter I sometimes wish for something paler, but this works fine. At first can be a touch tricky to work with. A good thing to remember that with this formula, a little goes a long way. Start small, and then build coverage where you need it. Rather unforgiving towards any dry spots you might have, so prep your skin well, and prepare to blend, blend, blend. But the result is great.
MAC Studio Fix Powder + Foundation in NC10
My brother bought it, thus the NC instead of NW, but it works okay, just a little pinker than I would have liked. We didn't have MAC in Moldova for the longest time, and sometimes there's still trouble with shades – and prices. Overcharge much? But yes, the powder. A great medium to full coverage powder foundation. You can use a light dusting, and you can also go all in. With good blending and a finishing spray it won't look cakey and/ or powdery at all.
Oriflame Colourbox Face Powder
A powder that does little. It's almost transparent – at least on my face. I keep it in my purse for some oil control throughout the day, but it doesn't work well for that. It mattifies, but for a short time. I bought it with the hopes that it's going to be a workhorse, but no. Oriflame quality deteriorated over time. Colourbox sub-brand is no longer, too.
Avon Mark. Translucent Setting Powder
Now this, I love. I am on the fence whether I would like to continue supporting Avon as a brand though, so I am not sure if I will be repurchasing. This loose setting powder is not the most finely milled out there, but it is transparent (again, I am pale, so perhaps on darker skin it will show up), and it sets makeup well. You don't need a lot, so I expect this to last me at least another 6 months.
I Heart Revolution Blushing Hearts Peachy Pink Kisses
I believe the brand no longer makes these particular blushers/ highlighters, and it's a pity too, because the quality is really nice. You can achieve a natural look, or you can make it visible from a plane above. You can use it as a blush topper, or you can use it as a stand-alone highlighter, or a blush. You can mix shades together, you can use each of the three individually. I love this. The only downside is that it can emphasise texture if you're not careful.
Mary Kay Shy Blush
Some time ago somewhere on the internets I read that this MK blush is a great dupe for NARS Orgasm blush. I've no idea, I've never had the latter – but the MK one is a pleasant product. Mine is on the older side so it's losing its pigmentation just a touch, but it's still workable. It's a pretty universally flattering shade, though on deeper skin tones you might need to layer it thicker. Once this is done, I will not be repurchasing, as I no longer support MK.
Elf Blush & Bronzer Duo in Fiji
A light bronzer with a good (neutral) undertone for me. Not very pigmented, which in bronzers is always a plus, from where I stand. Blends well, looks natural. Blush is completely matte and fairly neutral. I've only used it a couple of times so I can't say anything bad or good about it, apart from, "I like using it". If you'd like a deeper review, holler in the comments, and I'll move it higher up my list of 'products I want to write dedicated posts about'. 😀
Elf HD Undereye Setting Powder
Absolutely love this setting powder for concealer. It sets, but it also has the tiniest–tiniest amount of reflection for brightening. Unfortunately, it's discontinued. There's another undereye setting powder on the official Elf website now. I'm going to try it, but I have no idea when, as Elf is hard to come by in Moldova. There are a couple of sources, but the choice of products is limited.